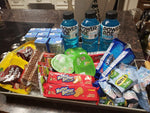 Modern Charcuterie...Break All the Rules!
My friend, Susie, recently posted this humorous, and might I add gorgeous picture of what she referred to as "boys' charcuterie"!
Photo Credit: Susie Boyce
Did calling it boys' charcuterie make you cringe or laugh?  Are you a rule follower, a rule breaker, or somewhere in between?  It is no secret that charcuterie boards are ALL the rage, right now.  Many people are so passionate about this that if you stray from tradition, they will call you out on it.  That is NOT charcuterie!  Well, what IS charcuterie, exactly?  Charcuterie is a French term that refers to cold meats, collectively; it also refers to stores that sell cold, cooked meats.  So, to the traditionalist, any board that does not have cold meats on it, is not charcuterie.  Only, a traditional board, such as this one would qualify.
Photo Credit: Snippets of Paris
As we all know, though, we love them so much, they are taking a mind of their own.  For all you rule breakers out there, this post is for you!  When it comes to entertaining and putting together beautiful boards, I say get creative!  Break all the rules!  Be a SUSIE!!
If you know me at all, then you know that I struggle a little during the holidays.  Don't get me wrong...I LOVE Christmas!  In college, however, I worked at a big box retail store that shall remain unnamed that sort of ruined Christmas music for me (because they start piping it in, in August), so I can come across a little bah humbug when it comes to traditional Christmas things (I also worked in the Christmas department, during the holidays).  That's why, when I saw this new trend, I immediately thought, "I can get on BOARD with this"...see, what I did there?  Have you seen or heard about these?  They are called "Charcuterie Chalets" and people are making them, instead of gingerbread houses.  YESSSSSSS!!!
Photo Credit: Reddit/u/dkmackay
WHAAAATTT???!!  I think this is so amazing!  How about you?  Are you thinking that you don't want to give up your gingerbread house because you love sweet more than salty?  Well, don't worry your pretty, little head...you can do something more like this:
Photo Credit: Melissa Mondragon
Yep!  People are calling these "Hot Chocolate Charcuterie Boards".  Yum!!  While, clearly, I am all for breaking the rules, when it comes to charcuterie, don't worry!  I have a solution for all of you traditionalists, who cringe at charcuterie being in the title of these non-traditional boards.  My sister, and business partner, Micah (sorry, Micah), can NOT, for the life of her, say the word "charcuterie", so she has coined a new term (I think she got it from our friend Maggie at Bon Vivant Boards); enjoy your "GRAZING board"!
I would be remiss, if I did not also point out that we at The Southern Spirit, have some AMAZING charcuterie boards for sale.  These boards are hand made from Texas Native Pecan, and are LOCAL.  We love featuring local artisans, when we can.  Aren't these beautiful?
Head on over to our website and get one, and don't forget that you can save 20% through THIS Friday, using the code CYBERWEEK20!  You will be supporting 2 local companies, and as always, we will donate 5% of your purchase to a featured charity; right now, that charity is the Juvenile Diabetes Research Foundation.  Come on!  That's a win, win, win...WIN???!!!