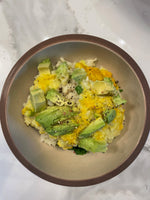 Some of you know that autoimmune disease runs deep in my family!  I have Celiac Disease; so does my mom, my aunt, and we suspect my grandmother was undiagnosed.  If you don't know what Celiac Disease is, it is more than an intolerance to gluten.  When you have it, your body incorrectly detects the protein in gluten as a foreign invader and begins to attack it, thus attacking your intestines, as well.  That is the best non-medical way I can think of to put it.  Over time, this constant attack will shave off the villi in your intestines.  This damage is called villous blunting, and causes a host of problems if you continue to eat gluten.
I have been gluten free for about 12 years, now.  While my villi have healed, I have a host of issues from the long term consumption of gluten, before I was diagnosed.  To help with this, my doctor has put me on an autoimmune protocol...what is that, you are thinking?  Well, here are the things I CANNOT eat right now.
Gluten, Dairy, Grains, Legumes, Sugar, Artificial Sweetener, Some Nuts and Seeds, Eggs, Night Shade Vegetables, Alcohol, Coffee, Certain Oils, Processed Food.
What's LEFT???!!  Well, not a whole lot, right?  I do not at all purport to be 100% compliant and luckily, my doctor agrees that might be close to impossible.  But, I am trying my best, so I thought I would share a recipe that I tried that my whole family LOVED!
This is a Healing Bowl, and it was pretty darn good.
Ingredients:
4 Cups Mashed Garlic Cauliflower
1 Tbsp. Minced Garlic
1 Can Unsweetened, Full Fat Coconut Milk
2 Bags Arugula (if you are not a fan of arugula, baby spinach would be an excellent alternative)
1 Bag Frozen Diced Chicken Breast (I like to use a brand from Whole Foods that is organic)
1 Avocado
3 Tsp. Lemon Juice
3 Tsp. Olive Oil
1 Tsp. Turmeric
Salt to Taste
Instructions:
Preheat oven to 300 degrees.
Wash and cut about 3 heads of cauliflower.
Steam until easily poked with a fork (I like to use my Epicure Steamer because it's pretty fast).
Add a small amount of olive oil to a pan and lightly roast the garlic.
In a large bowl, combine cauliflower, garlic, and coconut milk.  Use an immersion blender or mixer to mash the cauliflower to desired consistency.
Layer the mashed cauliflower and diced chicken in a 9 x 13 casserole dish and warm in the oven.
While warming in the oven, place a small amount of water in a pan over medium heat, and cook arugula or spinach just until wilted.
In a separate bowl, combine olive oil, lemon juice, salt, and turmeric and whisk well.
Slice avocado for topping.
Scoop mashed cauliflower and chicken into a bowl.
Top with arugula or spinach, avocado, and drizzle the sauce on top.
If you have any questions about Celiac or AIP, please reach out to us...we are happy to help in any way we can!