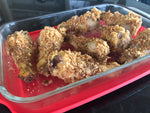 Air Fryer Keto Fried Chicken
We recently visited some family at their new lake house.  It was such a great time seeing family, letting cousins hang, and hitting the lake on a boat.  While we were there, my husband's aunt kept using her air fryer to cook things quickly, that would normally take a super long time!  I had already been intrigued by air fryers, but it was impressive to see it in action.
So, I came home and did a thing...
I realized that I have an Instant Pot (yes...I said INSTANT Pot...it's NOT an INSTA Pot...that really drives me crazy for some reason, when I know it shouldn't, but I digress), and my friend Shannon posted that you can buy an air fryer lid for it a while back.  I hopped online and sure enough, there it was, so I grabbed one.  I use my Instant Pot about 2-3 times a week, as it is, so why not add air frying to the mix?
My husband likes to try the latest eating fad all the time, so right now, it's keto.  I have Celiac Disease, so I can do this.  So, I went BIG for my first air frying attempt and made Air Fryer Keto Fried Chicken.  I am definitely not a professional photographer, so give me some grace on my pic of the chicken, please.  
I found this recipe online; here is the link:
https://www.wholesomeyum.com/air-fryer-keto-low-carb-fried-chicken-recipe/
Here are some notes and modifications I made to this recipe:
This recipe calls for Coconut Flour.  Like I said before, I have Celiac Disease, so I normally have every type of gluten free flour available in my pantry, but in this particular case, I did not have coconut flour, so I just decided to wing it with Almond Flour.
I doubled the recipe because I was making a lot of chicken (why not have leftovers?).  Truth be told, I forgot to take a picture of my beautiful chicken when I made it, so this picture is actually a pic of my next-day, cold leftovers.  I think it still looks pretty good the next day.  Ha!
When doubling, I thought I needed to double the amount of eggs used, but it turns out, I probably could have just used 3 eggs because I had a lot left over.
For the crushed up pork rinds, I just put them in a gallon sized, zip lock bag, and at first, I pounded the bag with my fist because living in this isolated, Covid-19 era, it felt good to punch something.  But, I am kind of a wimp, and I got tired, so I pulled out a rolling pin, and just rolled over the bag with it.  This method actually gets the rinds to a smaller texture, more consistent with what you would think crispy fried chicken should look like.
The recipe says you should put the flour, eggs, and pork rinds in separate bowls, and dip the chicken into each one.  When I make this recipe again, I will do this differently.  My husband's grandmother, Nonnie, taught us a fried chicken making trick a long time ago.  When making fried chicken, you take all your dry ingredients and put them into a large, paper bag (think paper grocery bag).  Then, you dredge each piece of chicken, according to your recipe, and then throw it in the bag.  Then, just fold over the top of the paper bag, and "Shake, Shake, Shake Senora, Shake Your Body Line..."  Maybe I'll wait until after this Covid mess to try it that way, now that I think about it.
After reading ALL the instructions on my new air fryer lid because that is my OCD habit, I learned that you are supposed to turn the things in your air fryer at certain points, so your chicken (or whatever else you might be cooking) will cook evenly.  I am lazy, so I decided that instead of laying my drumsticks flat in my air fryer basket, I would stand them upright in the basket and not turn them at all (shout out to Steve for giving me this idea).  This seemed to work really well, but I feel like, since I could stuff more chicken in the basket this way, it took a little longer to cook than the recipe said.
I put my chicken in the air fryer basket and into the Instant Pot (DO read the air fryer lid instructions if you get this lid, as it tells you REPEATEDLY not to plug in your instant pot and your lid.  You JUST plug the lid in...period) and I pressed the "Air Fry" button, and let it do its thing.  It smelled amazing the entire time it cooked!
Pro Tip: I lined the bottom of my air fryer basket with aluminum foil to make it even more mess free!
I would totally make this again!  As a bonus, while the chicken was cooking, here is a recipe for some Cauliflower Mac and Cheese that I made to go along with this as a side dish.  My kids said they could eat it every night, so that's something!
https://www.wholesomeyum.com/recipes/cauliflower-mac-and-cheese-recipe-low-carb-keto-gluten-free/
Shout out to Wholesome Yum for both of these delicious recipes!  I hope you enjoy, and please let us know if you ever have any recipe questions and/or if you ever have any Celiac questions.  I am passionate about helping people if/when they must go on a gluten free diet!
Written by Jamie Bingham