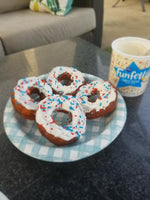 We had a fun Fourth celebrating with our little family, swimming, grilling, shooting fireworks and making this fun patriotic breakfast. The kids wanted to try their hand at donuts. There are a lot of recipes out there to make this yummy treat from scratch, but we wanted something simple. We used pre-made biscuits, icing and fun red, white and blue sprinkles. The best part was seeing my daughter use my grandmother's biscuit cutter to make the donut hole, which then of course turned into our donut holes. We won't be opening up our own donut shop anytime soon, but we had fun!!

Here is a link for fun ways to use those biscuit and cookie cutters!!
https://spoonuniversity.com/how-to/31-innovative-things-can-cookie-cutters?fbclid=IwAR3ZBiZFJjCIcBXddeG_muIaMVu8PCdXG_5MVkKmsP2UR67rcWEHFKqV3Ns
Let us know fun ways you are using your biscuit and cookie cutters!
Written by Britten Hamilton
The Southern Spirit